Baby Pram Skateboards
Shop Baby Pram Skateboards in Armadale, near Melbourne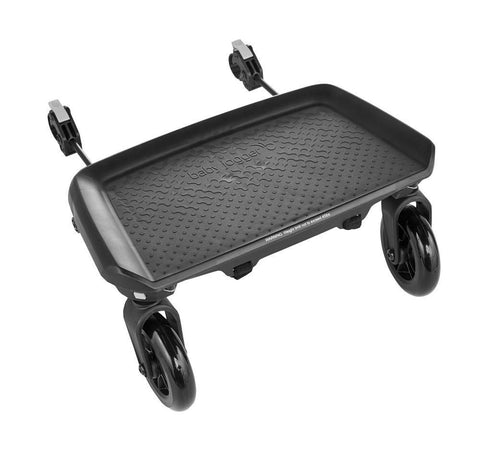 $180.00
The Glider Board is a great way to let your older child hitch a ride. It attaches easily to the rear axle of your stroller and has a non-slip surface so you know your child will be safe. The Glider Board can flip out of the way when not in use and folds easily even when attached to the stroller.
Restrictions:
Do not use while jogging
Weight limit 20kg
Compatible with: 
Baby Jogger City Mini 2 
Baby Jogger City Mini GT2 
Baby Jogger City Select 
Baby Jogger City Select Lux 
Baby Jogger City Elite 2
Baby Jogger Summit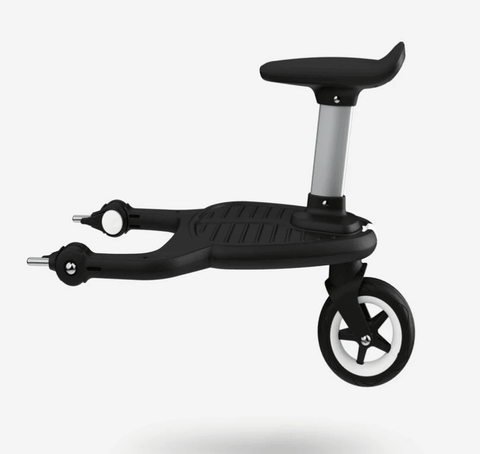 $209.95 8 % OFF
Create a comfortable ride for both child and parent by attaching the new Bugaboo Comfort Wheeled Board to the chassis of the Bugaboo stroller in just two clicks. The left or right attachment option creates extra walking space. Stroll with two or more children while the child can sit or stand comfortably, so both can enjoy a secure and fun ride. When not in use, the board can easily be clicked up or detached for easier access to the storage space.
FLEXIBLE BOARD POSITIONING FOR INCREASED WALKING SPACE
Left or right board positioning, preferred side to be chosen by parent. In comparison to current wheeled board, 8cm more walking space.

STANDING BOARD WITH DETACHABLE SEAT FOR A COMFORTABLE RIDE
Increased comfort for the child with a seated position. Child can choose between a standing or seated ride. Engineered to be robust – even up to a load of 23 kg / 50 lbs. Easy click on & click off detachable seat. Seat can be stored in underseat basket when not in use. Seat to be removed before folding up.

EASY STORAGE SOLUTION SAVES SPACE WHEN NOT IN USE
Innovative storage solution. Self supporting click system in 3 positions. Positions: riding, half up, fully up.
The Bugaboo Comfort Wheeled Board can be used on all Bugaboo prams:
bugaboo fox (no adapter required)
bugaboo cameleon (2007 model) and bugaboo cameleon³ (in combination with the bugaboo cameleon³ adapter)
bugaboo bee (2010 model) and bugaboo bee³ (in combination with the bugaboo bee³ adapter), and Bugaboo Bee⁵ (no adapter required).
bugaboo donkey and bugaboo buffalo (in combination with the bugaboo donkey/ buffalo adapter)
.