Portable High Chairs
Shop Portable High Chairs in Armadale, near Melbourne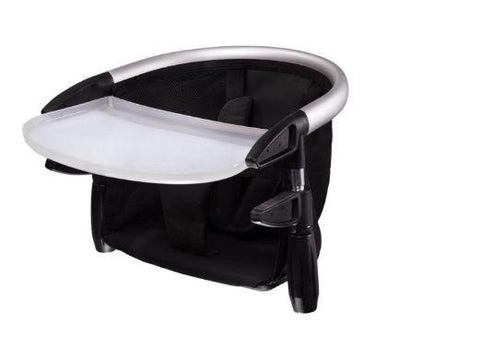 $159.00 19 % OFF
have lobster at the table everyday!
The multi-award winning & world's fastest deploying high chair is what every household needs; this popular portable & teeny tiny highchair is unbelievably safe, light & ridiculously good looking - perfect for home&away! 
lobster™ conveniently clamps onto a wide variety of table sizes, so it doesn't take up any precious space at home (or the cafe!), & you can bring your bub right in to join the family for those social meal times, where they're gonna learn all those important table manners & interactions, as well as just giving 'em a sense of belonging & sharing! And 'cos lobster™ is globally safety certified, with top features to keep your bub sitting safely at the table, it can literally go ANYWHERE with you, making it a much needed product to take on holiday - this is so important when hygiene plays a HUGE factor, especially in today's world!
So, what's not to love?
What makes lobster™ unique
robust&light
our team of thoughtful engineers have made lobster™ uber light, yet uber tough due to the sleek aluminium frame!
jaws of strength!
lobster™ needs no big swinging arms to clamp on to the table safely – our team of thoughtful designers have engineered the lobster™ jaw clamps to exceed global safety requirements for static holding & durability – looks good, feels robust! Its strength & stability is verified by placing a 
40kg / 88lbs
test weight in the seat for a 48 hour-period (static durability test), and then by repeatedly dropping a 
15kg / 33lbs
 test weight from a height of 80mm onto the seat for 200 times (dynamic durability test) - Sounds like lobster™ has serious strength with its jaws!
global certifications
We don't just certify for one or some markets, 'cos what's the point?! We go full noise, and get global! lobster™ complies with ASTM F1235 & EN 1272!
maximum harness safety
Other brands are happy with the 3-point safety harness for the kiddo's, but with lobster™, know your bub is securely fastened with a 5-point harness – just like a buggy!
hy-genius!!
It's all about hygiene nowadays! lobster™ can be used away from home to keep your bub away from grubby restaurant chairs and greasy table tops! The dishwasher-safe food tray slides between the lobster™ "claws" protecting both the table from food spills, and your child from unwanted germs – yuck! The lobster™ fabric can also be wiped down, & for a more thorough clean, you can slide the fabric right off the high chair frame for a more thorough hand wash.
travel-friendly option!
Seasoned travelling parents know the drill! You need products that are lightweight, compact, portable, flat packs & easy to clean! (WHEW!!!) 
Well, lobster™ ticks all the boxes, tucked into its own carry bag! 
food tray included
lobster's dishwasher-safe food tray conveniently slides between the lobster claw clamps to protect your table surface from food spills & fits in the carry bag for food on the go. Genius! 
looks are everything!
When we say lobster™ looks good, we mean it! Sleek in looks & functionality, this lil highchair is so unintrusive & teeny on the table, you're gonna wonder why you didn't get this portable highchair earlier!
multi award winning
Is there any more to say? Yup, we've won a multitude of consumer & industry winning awards for lobster™, 'cos it's just so goddamn clever!


Specifications
AGE RANGE
6 months - 3 years*
*age reference as a guide only (from when a child can sit up)
SEAT LOAD
Europe: 15kg / 33lbs
Rest of world: 17kg / 37lbs
PRODUCT WEIGHT
1.8kg / 4lbs
FOLDED DIMENSIONS 
(H x W x L)
8 x 35 x 34cm 
/ 3 x 14 x 13"
CLEANING
removable fabric for gentle hand wash, also wipes clean
TABLE THICKNESS
minimum 20mm / 
max
imum 95mm / 
refer to manual for extra information about table compatibility



$85.00
Has your child outgrown their high chair? Do they want to sit at the table on a proper chair, like you? This practical booster seat helps your child up to the table without needing to sit on your lap or slide around on cushions.

Your child sits safely and securely on the booster seat, and can focus on mealtimes and what's happening around the table.

Features:
Comfortable Table Height
Anti-slip textured surface keeping your child sitting safely
​Compact and portable, it so light that even a child can carry it
​Wipe down to Clean
Held in place by a sturdy strap with a childproof buckle
Rubber strip for good grip
Fits most chairs, can be used on most kitchen and dining chairs, and will not leave any marks on the chair or seat pad
Suitable for children aged 3 years and upwards