Ezpz
Shop Ezpz in Armadale, near Melbourne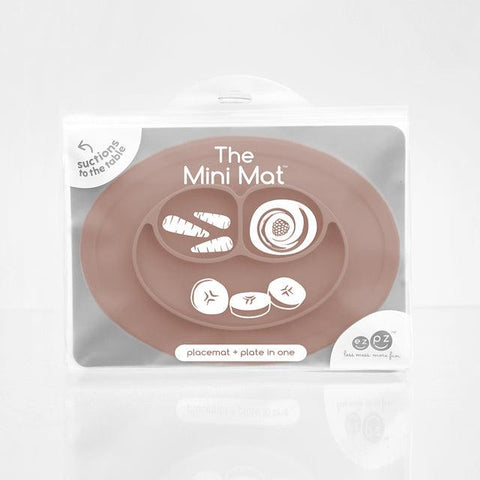 $35.99
Like all of ezpz's products, the Mini Mat is an all-in-one placemat + plate that suctions to the table. The mat is made from 100% food-grade silicone that is BPA, PVC and phthalate free. Designed for infants / toddlers 4+ months.
Best Selling Feature
The Mini Mat is made from thinner silicone, it helps to press the edges down once the mat has been placed on the tray or table
Important Notes
The Mini Mat does not fit on the following highchair trays: the Stokke Tripp Trapp, the Boon Flair, the Nuna Zaaz, the Keekaroo, the Ingenuity ChairMate (Easton), the Safety 1st Beaumont and the Abiie Beyond Wooden Highchair. The high-gloss finish of the Oxo Sprout Highchair hinders the Mini Mat's suction function.
That said; here at ezpz we say ditch the highchair tray and push your infant / toddler up to the table with the rest of the family!
Mat fits most highchair trays, including "space saver" models
Mat is made from a thinner silicone and is extremely lightweight, so it is perfect for dinners out and travel
Mat is packaged in a reusable bag that is ezpz to pop in your diaper bag
Dishwasher, microwave and oven safe
Easy to store (place in utensil drawer or cabinet)
Built to last (mats will always look brand new)
Dimensions
8.5 x 7.7 x 1
Portion sizes (i.e., the eyes and smile) are catered to infants at 2oz, 2oz and 4oz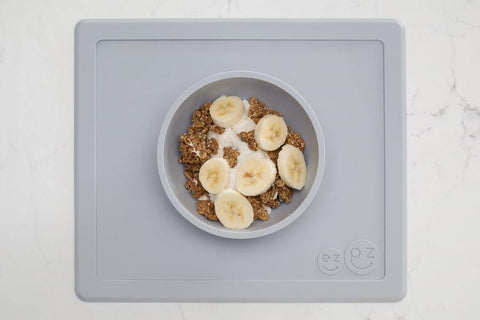 $38.95
The ezpz Happy Bowl is an all-in-one placemat + bowl made from high quality silicone. It suctions directly to the table, making it difficult for tiny hands to tip over. At a height of 1.5 inches, the bowl is perfect for a variety of foods, including pasta, soup, oatmeal and cereal.
Portion sized at 226 grams
Features:
Great breakfast mat for cold cereal or oatmeal (warm oatmeal directly in the bowl!)
Mat fits most highchair trays
Dishwasher, microwave and oven safe
Easy to store (place in utensil drawer or cabinet)
Built to last (mats will always look brand new)
Dimensions
22.25 x 26 x 3.8