Bibs
Shop Bibs in Armadale, near Melbourne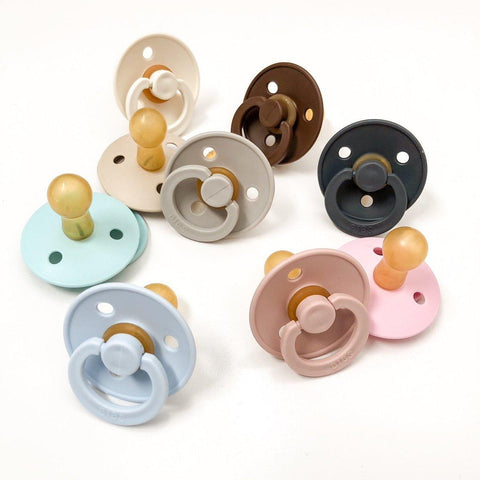 $19.99 10 % OFF
BIBS DUMMIES 2 PACK "COLOUR"
is the
original BIBS pacifier
and has been on the market for
over 40 years
. It has the signature round BIBS shield with three vent holes and round BIBS engraved handle ring.
The nipple is round and resembles the shape and size of the mother's breast to provide comfort to your baby.
Available in natural rubber latex.
Recommended by midwives to support natural breastfeeding.
The shield is made of 100% food-safe material. Completely free from BPA, PVC, and phthalates.
Designed and manufactured in Denmark/EU
The nipple is produced from natural rubber latex. The rubber is a natural material and therefore slight colour variations may occur.
The shield is made of 100 percent food safe polypropylene (PP). Completely free from BPA, PVC and phthalates.
Sizes:

Size 1: 0-6 Months
Size 2: 6 Months +
$32.95
Our baby bottle is carefully designed for babies and parents.
The bottle is designed with the child's needs in mind and is made of borosilicate glass, which is temperature- and thermal shock-resistant, durable, and much more.

Made of borosilicate glass which is extremely durable and heat resistant
Does not emit microplastics into the milk
Round nipple in natural rubber latex (slow flow)

The round nipple matches the nipple from our popular BIBS Colour pacifier

Designed with an anti-colic function

All parts are made of 100% safe food-grade material
The nipple is equipped with an anti-colic valve, that lets out air which reduces air swallowed while feeding.

The nipple is produced from natural rubber latex. Since natural rubber latex is a natural material, color variation may occur.
Glass bottle 110 ml

 or 225 ml

Cap
1 nipple (slow flow)
Milk Lock
Screwcap
Foldable funnel

Also, the bottle comes with a foldable funnel making it easy for you to fill up the bottle fast and easily with less milk/formula waste. Lastly, our baby bottle contains a milk lock for easy and hygienic storage. It can be placed under the screwcap and cap. This makes it easy for you to take the bottle with you on the go, without having to worry about spilling the milk in your bag or the stroller.