Baby Pram & Stroller Brands
Shop Baby Pram & Stroller Brands in Armadale, near Melbourne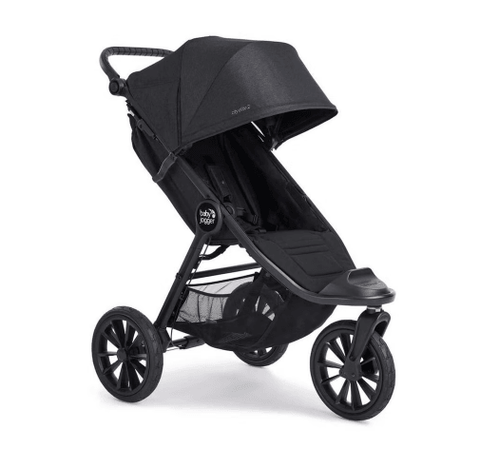 $1,099.00 18 % OFF
Are you an active and outdoorsy family? Then you're looking for an easy to use stroller with the least complicated fold on the market.

With its new large forever-air tyers, all-wheel suspension and high weight capacity, the City Elite 2 provides luxury and comfort over any terrain.

With an adjustable calf support, adjustable canopy height, and City Go Capsule adaptors included as standard, this stroller lets you go anywhere in style, while still offering Baby Jogger's patented 1 hand quick-fold technology for compact storage.


Features:
Lift a strap with one hand and the City Elite folds itself: simply and compactly.
Auto-lock will lock the fold for transportation or storage.
Seat reclines to a near flat position with air vent and a retractable weather cover
SPF 50+ sun canopy can open to even more positions now, with 2 height options and three peek-a-boo windows with magnetic closures 
Forever-air, all-terrain & all-wheel suspension tyers. You can set your front wheel to swivel for your daily obstacle course or lock for long distance strolling.
The City Elite 2 can become a travel system in a heartbeat using the City GO Capsule car seat adapters included as standard.
You can also add a Bassinet to handle even the littlest of passengers. (City GO Capsule & Bassinet sold separately).
Specifications:
Dimensions Unfolded: 119cm x 67cm x 83cm
Dimensions Folded: 85cm x 67cm x 35cm
Weight: 11.61kg
Weight Capacity: 34kg
$2,199.00 23 % OFF
UPPAbaby Vista V2 with Bassinet
FREE Upper Adapters and Carry-All and Backpack valued at $321.90
The latest evolution of Vista - V2 - with enhanced performance features that make life even easier for growing families. The UPPAbaby Vista is a convertible stroller system designed to accommodate up to three children. It is versatile and can be used from birth through the toddler years. The Vista is perfect as a single pram, or it can be used with two compatible capsules or bassinets for twins, as well as a combination of a toddler and newborn.
ll as a toddler and newborn combination.

New Features:
- Full size reversible toddler Seat with higher back, longer leg rest and deeper footrest
- Five-point no thread harness
- Extendable canopy with UPF 50+ protection, zip out fabric and mesh panels
- Enhanced all-wheel suspension and softer tyres
- Front wheel locks with visual indicators
- Extra large, easy access basket with dedicated Rain Shield storage.
Other Features:
- Expandable seat selections that allow for two rear and forward facing, reclining seats; two compatible infant car seats, two bassinets and countless other combinations.
- Leather Handle Bar and Bumper bar Accents.
- One-handed, multi-position recline.
- One step fold, with or without seat attached.
- Adjustable canopy for growing child.
- One-hand release, pivoting bumper bar for easy loading.
- Fabrics are removable and washable.
- One-button telescoping handlebar.
- Foot operated brake.
- Stands when folded.
- X-Large easy-access basket with 13.6kg weight limit.
- Combines aluminium with magnesium for optimal lightweight, durable performance.
- One-step fold, with or without seat attached.
- All weather protection with included Toddler Seat Rain Shield and Bug Shield.
Bassinet:
- Suitable from birth up to 9kg/6 Months or until baby can push up on hands and knees (whichever comes first).
- Zip-out, water-repellent inner liner and boot cover are easy to remove and clean.
- Perforated mattress pad, vented base and canopy allow for added breathability.
- UPF 50+ Sunshade with a softer, smoother material.
- Depth and ventilation provide a safe overnight sleeping solution.
- Includes Bassinet Bug Shield and Storage Bag.
Specifications:
- Toddler seat: 6 months to 23kg
- Suitable from birth with the bassinet (included) or the infant insert accessory (sold separately)
- Folded dimensions: 44cm L x 65.3cm W x 84.5cm H
- Unfolded dimensions: 91.4cm L x 65.3cm W x 100.3cm H
- Weight (frame & seat): 12.4kg
- Bassinet weight: 3.8kg.
* Travel System compatible (Need to purchase adaptors). https://www.kiddiecountry.com.au/products/vista-alta-2015-maxi-cosi-adaptors
* Compatible with Vista Rumble Seat (Sold Separately). https://www.kiddiecountry.com.au/products/uppababy-vista-rumbleseat



For them, it's a matter of pride. For parents, it's one more source of joy. The full range of Uppababy Pushchairs including the Vista is available to buy at Kiddie Country  including travel systems and all accessories
Introducing the latest evolution of VISTA – V2 – with enhanced performance features that make life even easier for growing families. 
First-time expectant parents are able to experience new shifts in light weight expandable prams with this the newest Uppababy Pram. The VISTA's intuitive design allows for multiple configurations, making transporting a second and third child a breeze - all while strolling like a single.
NEW FEATURES 
• Full-size reversible Toddler Seat with a higher back and deeper footrest 
• Five-point, no-rethread harness 
• Extendable canopy with UPF 50+ protection, zip-out fabric, and mesh panels 
• Enhanced all-wheel suspension and softer tires 
• Front-wheel locks with visual indicators 
• Extra-large, easy-access basket with dedicated Rain Shield storage
Features:
Included bassinet with sunshade
Our included bassinet is perfect for naps on the go. With just one hand you can detach the bassinet and carry your sleeping infant anywhere
Reversible toddler seat
The included toddler seat is designed to meet the growing size and curiosity of your child. Your toddler can ride forward, backward, completely upright, fully reclined 
Performance Travel system
The Maxi Cosi & Cybex Cloud Q capsules attach directly to the VISTA when using the Uppababy Vista capsule adapter (sold separately) delivering a Performance Travel System that is the ultimate in portability and safety. No need to sacrifice performance for convenience
Shock-absorbing front & rear suspension
Independent shocks ensure your child has a smooth and comfortable ride whether traveling down winding paths or over bumpy pavement. No puncture, foam core rubber wheels guarantee you'll never be stranded with a flat
Stands when folded
The VISTA one-step fold is super easy and intuitive and stands on its own. The stroller can be folded with or without the seat attached, saving time for other things like cleaning up spilled milk and fixing hair bows
Smart frame design
Combines aero aluminum with magnesium for optimal lightweight, durable performance
Recommended Age/Weight
Carrycot suitable from birth up to 9 kg
Toddler Seat: 6 months to 22.7 kg 


Specifications
Folded 44 L x 65.3 W x 83.8 H cm
Unfolded 83.2 L x 65.3 W x 100 H cm

 

True Weight Frame + Seat: 12.3 kg

 

Carrycot: 3.8 kg


Warranty  https://help.uppababy.com.au/support/home