Baby Thermometers
Shop Baby Thermometers in Armadale, near Melbourne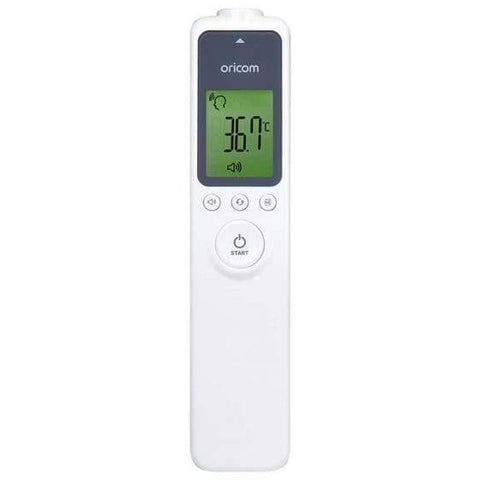 $114.99 20 % OFF
The HFS1000 is a non-contact, multipurpose Infrared Thermometer, with no probe filters and a colour coded visual reading indicator.
The HFS1000 Non-Contact Infrared Thermometer is included as a medical device on the Australian Register of Therapeutic Goods (ARTG 279076). This product is intended for use as a measuring device for determining the patient's body temperature.
ALWAYS READ THE LABEL AND USER GUIDE, USE ONLY AS DIRECTED.
Hygenic, No probe filter, No contact, No risk or virus transmission
Fast accurate temperature detection (less than 2 seconds)
Large backlit LCD display
Body, room or surface temperature detection
Stores up to 32 recorded temperatures
Easy measurement for all ages
Automatic power off
Requires 2 AA Alkaline batteries (supplied)
Colour coded reading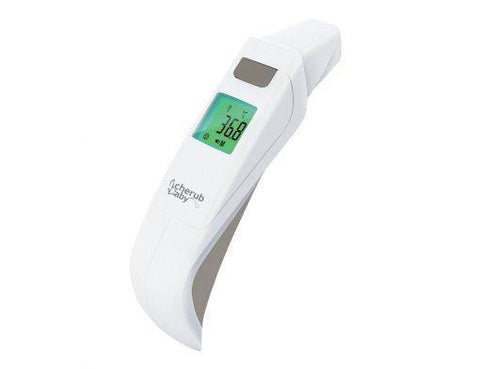 $129.99
The Cherub Baby 5 in 1 Touchless Forehead Ear & Bath Thermometer has just been released with the most advanced tech to date to provide the highest accuracy of any touchless thermometer.  Utilising Accuscan technology, the thermometer will records a continuous reading across the entire forehead achieving more consistent and accurate data.  It also doubles as an ear thermometer, a bath thermometer, a liquids thermometer and a room thermometer!
From the brand that has won over 7 awards for best baby thermometer, we bring to you our most advanced model yet, the 5 in 1 No Contact Forehead & Ear Thermometer.
This multifunction thermometer is not just for body temperature readings. It covers:
Accurate touchless forehead readings in 1 second.
Revolutionary Accuscan Technology
Ear readings in 1 second.
Takes the bath temperature.
Takes the temperature of liquids (such as a baby bottle).
Takes the ambient room temperature (perfect for baby's room).
The Cherub Baby 1 second ear & forehead thermometer can scan a reading with no contact, perfect for a sleeping baby and so fast that you only need 1 second to take the reading.
Takes

 

Forehead

 

and

 

Ear reading without needing to buy expensive probe covers!
Safe & hygienic

 

fever thermometer

 

for babies and children. For use from infant to adult.
Provides reading in one second
Hospital Grade
Slight fever and high fever indicator
Compact and lightweight
Simple one touch operation
Auto shut-off after 30 seconds
Fever Alarm when temperature exceeds 38.0 degreesC
Accuracy: +/-0.2 degreesC (+/-0.4 degreesF)
Battery: d.c.3V, 2×1.5V AAA batteries
Battery Life: 2500 readings
Easy-to-read backlit LCD display
Size: 15.5 x 4.5 x 3.5cm
LCD: 25x20mm
N.W: 65g
CE, FDA and TGA Approved.
The Cherub Baby 5 in 1 Infrared Digital Ear and Forehead Thermometer is listed on ARTG (Australian Register of Therapeutic Goods). ARTG Identifier: 334811
Storage, Cleaning and Compatibility:
Clean the probe tip with an alcohol wipe after using as an ear thermometer.
Wipe the body of the thermometer with a clean cloth as needed.
For more instructions please refer to the instruction manual.
Included in the box:
5 in 1 Ear and Forehead Thermometer
Forehead reading attachment
Batteries
Instruction Manual
The ear and forehead thermometer comes with 2 year warranty. ARTG ID 334811